Rubber Gewo Codexx Ef Pro 54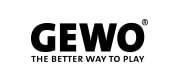 Tax included

By buying this product you can collect up to 7 point points. Your cart will total 7 points that can be converted into a voucher of €0.70.



For buying this product you should have 372 points. Your current number of points is 0 points .
Compared to the EL Pro 52 version, the GEWO Codexx EF Pro 54 (Explosive Friction) combines a slightly
harder and more compact sponge with a moderately tacky top sheet. It is the perfect weapon for uncom
promising, close-to- the-table attackers. EF Pro 54 stands for high-speed power spin and unstoppable
attacking. This is just the ideal rubber for hard-working attackers. It is not made for players who haven't
yet perfected their technique. Ultimate hardness combined with good control and great spin is all any
determined attacker will need.
The new GEWO Codexx rubber series is designed as a perfect combination of European and Asian rubbers. It combines a dynamic, hard sponge with a slightly tacky, but still flexible top sheet (Architect Technology). The new GEWO Codexx rubbers are made for dangerous, point-winning close-to-the-table playing and produce tons of power and spin. Compared to the popular Nexxus Hard series, the new Codexx rubbers produce even more rotation, thanks to the slightly tacky top rubber sheet. Due to a longer dwell time (Arc Hit Technology), they also provide for more control in over-the-table situations.
GEWO CODEXX - The key to ultimate power play with hard sponges and tacky top sheet.

Arc Hit Technology (Architect)
In countless series of tests, the GEWO development team, in cooperation with top GEWO players, designed a solution combining a hard sponge and tacky surface for point-winning, but yet controllable power. Using a new gluing technology for linking the top sheet to the sponge, the revolutionary ARC Hitting Technology enables spin-loaded, curved, and long trajectories, putting your opponent under enormous pressure. Optimum energy transfer guarantees maximum speed and perfect grip.
The new ARC sponge technology enables players to benefit from harder sponges for more power and dynamics as well as curved trajectories and catapult effect thanks to the elasticity of the special pore array. The innovative HIT Technology (Hitting Impact Technology) provides for the control and elasticity, ambitious players need to dominate their opponents with precise, spin-loaded attacks. With an innovative rubber mix and surface, the Codexx rubbers produce more spin with ABS balls and enable optimized energy transfer. The slightly tacky top sheet adds extra spin and provides for dangerous trajectories. With this combination of technologies, the Codexx rubbers will lay the foundation of your success.

Designed especially for explosive, close-to-the-table playing styles relying on short-range and quick movement, the new Codexx EL Pro 52.5 (Elastic Power) offers spin, speed, and stability combined with low ball bounce and all the control you will need to find the right answers even in situations when you are under high pressure. This rubber will reveal its full strength in attacking situations, while it still provides more than enough control and feel for spin-rich serves and short stops. This rubber has got everything you need for modern power table tennis.
Player type / features:
Excellent spin ratings for opening topspins against backspin with dangerous trajectory
Perfect ball coupling in all strokes, no slipping, no uncontrolled bouncing.
Hard close-to-the-table topspins and counter-topspins plus more than enough power for mid-distance rallies
Power, stability, and spin for uncompromising close-to-the-table attackers relying on rather short-range and explosive movements and high-speed
Speed:

137

Control:

79

Spin:

127

Hardness:

54